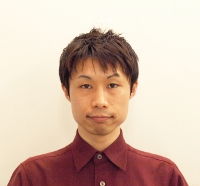 Minami-azabu, Minato-ku, Tokyo 106-0047, Japan
Phone: +81-90-4104-5023
E-mail: kambara@sappari.org
http://sappari.org/
Summary
Developed novel user interface software, particularly web applications, for over 10 years.
Interested in technology, design, and cognitive psychology on human-computer interaction.
Work Experience
June 2008 - Present
Invented a voice-based painting system, "Onomatopen", in which the user can paint using various textured brushes by simply saying onomatopoeias such as zig-zag, dot, and twinkle.
Invented a unique SNS client adopting an icon-style UI, "SocialFaceIcon". The user can check their friends' statuses by putting each friend as an icon on the desktop.
Invented a video chat appliance for a daily living space, "SmoothCurtain", which allows users to protect their privacy by simply controlling a curtain-like slider device.
Developed a web-based painting application, "TwitPaint", which allows users to paint pictures and share them via Twitter. Images can be created by forking from other pictures. (w/ Nota Inc.)
Software Engineer and Service Creator, Hatena
February 2005 - October 2007
Directed the development of a TV-like video streaming service, "Rimo", using which users can continuously watch a large amount of videos on the web with minimal operations, just like watching TV.
Developed an RSS reader, "Hatena RSS", which has a unique UI like a TV program listing, and allows the user to view a lot of articles at a glance.
Developed user interfaces for various web applications including a blog service, photo sharing site, and social bookmarking site.
Developer, IPA Exploratory Software Project (FY 2005, 2nd)
November 2005 - August 2006
Invented a web-based drawing application, "Willustrator", for users to collaboratively draw illustrations and share them on the web.
Developer, IPA Exploratory Software Project (FY 2003)
June 2003 - February 2004
Developed a music player for quickly and smoothly browsing music data.
Education
2012: Ph.D. in Media and Governance, Keio University, Japan
Focus: Human Computer Interaction (HCI) on the Web and Ubiquitous Computing
Dissertation: "A Study on Fusing Interface – Novel Interaction Design Integrating PC, Web, and Ubicomp"
Prof. Michiaki Yasumura
2006: Master of Media and Governance, Keio University, Japan
Major: HCI and Web
Thesis: "Development of cooperative illustration system on the Web"
Michiaki Yasumura Lab.
2004: Bachelor of Environment and Information, Keio University, Japan
Major: HCI
Michiaki Yasumura Lab.
Selected Publications
DrawerBrowser: Practical Picture Browser for Finding Items in Drawers
In Adjunct Proceedings of UbiComp 2011
Onomatopen: Painting Using Onomatopoeia
In Proceedings of the 9th International Conference on Entertainment Computing (ICEC 2010)
Awards
Super Creator Certification
Information Technology Promotion Agency, Japan (IPA), an incorporated administrative agency under the Ministry of Economy, Oct. 2006
SFC Award
Keio University Shonan Fujisawa Campus (SFC), Mar. 2004
Computer Skills
Languages: JavaScript, CoffeeScript, ActionScript, Ruby, Python, Java, Delphi
Tools: Ruby and Rails, Flash, Git
Platforms: UNIX (Linux), Windows, Android